The Top 4 Reasons Why Your Leopard Gecko May Not Be Eating
Why Is My Leopard Gecko Not Eating?
There are several reasons why your leopard gecko might not be eating. Reasons could range from poor tank conditions, illnesses, stress, injury, or being impacted.
We are going to talk about all of these reasons in depth and how to see the signs of these issues. Veterinary care is always important to take into consideration when you notice your leopard gecko eating less.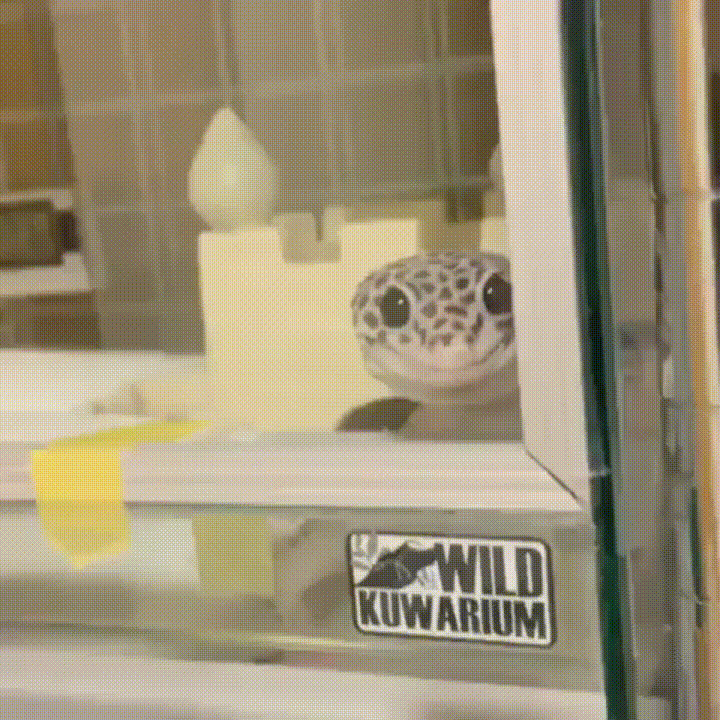 Poor Terrarium Conditions
The tank or terrarium is your leopard gecko's home. The terrarium is where they will be spending their whole lives. Many people thrive in a clean home environment. The same goes for leopard geckos too.
One reason your leopard gecko might not be eating is that their terrarium could be too cold. The temperature of the warm side of the terrarium needs to be between 85-90 degrees. The night time temperatures need to be around 75-80 degrees. If the temperature is significantly less than that, then they will be too cold and not eat. 
I would recommend having a digital thermometer attached to the tank so you can monitor the temperature accurately. 
When temperatures drop in their terrarium, their metabolism slows down drastically. The temperature drop could potentially trigger brumation. Brumation is when their metabolism drops and they sleep for up to 90 days without eating.
The bulb might be burnt out or the heat mat, if you have one, is no longer working. The solution to fix this problem is to replace the old bulb, mat, or even make sure your terrarium is not near a vent.
I would recommend using a heat lamp to create a consistently warm environment.  
Improper shedding is another result of poor terrarium conditions which can also have an affect on eating.
There is a risk for your leopard gecko to have an incomplete shed and have retained skin on their eyes. They are not going to be able to see their food if this happens. 
The tank humidity needs to be at 30%-40% maximum for a healthy shed. 
If your leopard gecko is shedding properly, but is still not seeing their food, you should go to the vet. There may be another underlying issue. Geckos can have corneal ulcers or other eye abnormalities.
Impaction
Impaction is another reason why your leopard gecko might not have an appetite. Impaction simply means that there is a blockage in the bowels and they have not made a bowel movement in a long time. Impaction is caused by accidentally eating too much substrate, hard shells from insects, or urate plugs. 
You'll know your gecko is impacted if you can feel hard lumps on their sides or under their bellies. If you feel something quite hard in there, that is most likely impaction.
The solution for impaction is to give your leopard gecko a nice warm bath a few times a day. The water should be deep enough for your gecko's hips to soak in. The warm water can help coax the fecal out. Make sure the water is not too hot, because you don't want to burn your leopard gecko.
If a bath does not work after a couple of days, I would recommend going to the vet. They will have a solution to clear out your leopard gecko. The plus side of going to the vet is that they can see if there are any other causes of lack of appetite. 
Illnesses
Leopard geckos have a couple of common illnesses that will take away their appetite. Poor terrarium conditions can lead to illness. If the temperature is too cold, they could potentially be at risk for a respiratory infection. Just like people, when a leopard gecko is ill, it is not going to want to eat. 
If you recently noticed that the tank was too cold for your leopard gecko, I would suggest going to the vet for an exam to catch any early signs of a respiratory infection.
Metabolic bone disease is another factor that leads to a lack of appetite. The metabolic bone disease causes the bones in their legs and spine to be bendy and fragile. In some cases, their bones could even snap from trying to walk. A leopard gecko with this disease will not be able to hunt their food and therefore they won't be able to eat. 
You can tell a leopard gecko has this disease if their body is starting to look deformed and if they barely move. 
You can prevent this disease by dusting their food with calcium powder and by providing a UVB light. 
If your leopard gecko is shedding properly, but is still not seeing their food, you should go to the vet. There may be another underlying issue. Geckos can have corneal ulcers or other eye abnormalities.
I would recommend taking your leopard gecko to see an exotic animal specialist because they will know for certain if your gecko has any of the illnesses mentioned above. 
Injuries
Any cuts, wounds, or pain will cause your leopard gecko to stop eating. Whether you know how they go their injury or not, you need to see a vet. Injuries will cause a lot of discomfort and potentially fatal infections. 
To prevent any injuries, handle your leopard gecko with care. If you have small children, talk to them about how to hold a leopard gecko and monitor their interaction.
WRAPPING UP
There can be multiple factors that can lead your leopard gecko to stop eating. Take your leopard gecko to the vet. Make sure tank conditions are appropriate and that your pet is defecating regularly. Be sure to give them calcium powder and a UVB light to help digest food and prevent illness. If you know the signs and potential reasons for lack of appetite, your gecko will be able to live a long healthy life.